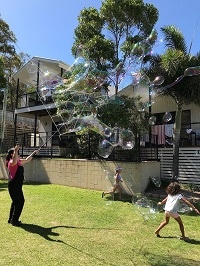 December is nearly over! We have had some fun here at Burleigh!
Maria's Bubble Show was a huge hit with the kids! Santa came for a visit! Chef Scott was cooking again, cup cake decorating always a success! We do hope all our guests had a wonderful Christmas! Just a reminder re-booking for next year opens on the 1st Feb. Our office will be open from 8.00am to receive your calls!
We still have sites and cabins left for Easter, now only a 4 night minimum.
There is still more fun to come throughout January! Click here for the full activity calendar Xmas 2020 Calendar - To Print
Click here for the Burleigh Break Newsletter Burleigh Break News Dec 2020
Posted: December 28th 2020