Broadwater Tourist Park is ready for the abundance of Fun that Easter School holidays brings to us. Our favorite activities will be back including Pancake Breakfasts, Bingo, Movie Nights, Crafts PLUS plenty of new and fun events the whole family will be sure to enjoy.
Pancake Breakfasts
Once a week during all school holidays we offer our Broadwater guests a FREE Pancake Breakfast! Meet us in the Middle Camp Kitchen for Park Manager, Paul's yummy homemade pancakes, topped with ice-cream and toppings, It's not everyday you get to have ice-cream for breakfast! Please register your attendance in reception the day before.
Pancake Breakfasts these school holidays are: Wednesday 7th April & Tuesday 13th April serving from 7.30-9am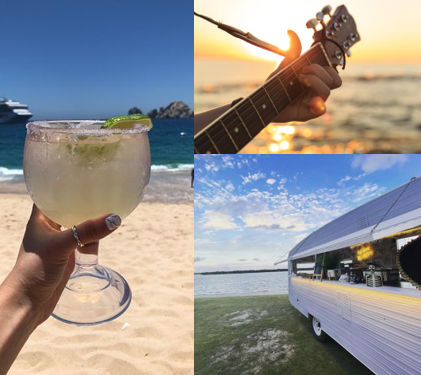 Live Music & Margarita's by the Water
This School Holidays we are excited to bring you our fun and new event 'Live Music & Margarita's by the water!' Local Musicians will be here to provide us with some amazing live music, "California Taco's" Mobile caravan will be here to supply dinner, bites, and MARGARITA'S!!! Bring a chair or picnic rug, sit back, relax and enjoy the view with family and friends, better yet get up and dance.
Date: Wednesday 7th & 14th April
Family Fun & Entertainment

Comedy Circus Stunt Shows, Animal Farms, Laser Tag, and Disco's will make appearances throughout the holidays to give you, your family and your friends some fun and amazing entertainment for all ages.
Stuntman Joel will be back to give us another jaw-dropping stunt show guaranteed to make you gasp and laugh at 4pm on Monday the 5th April. Barnyard Babies Animal Farm will be here on Friday 2nd April between 2-5pm with some small farm animals for the whole family to experience. Our newest activity Laser Tag will be on Sunday 11th April between 3-5pm, full of friendly rivalry and family fun that the whole family can participate in. Back by Popular Demand our Kids Discos will be happening on Tuesday 6th and Friday 16th April from 6pm, so pack your dancing shoes and get your boogie on with us down by the Events Area.
Movies Under the Stars
Our classic Movie Under the Star nights are back! Watch the latest to DVD Kids and family friendly flicks on the big blow up screen at the Events Area. We would love to hear some suggestions on some classic movies you want to see on the big screen.
These School Holidays will have movie nights on the following dates: Saturday 3rd, Thursday 8th, Saturday 10th, Monday 12th & Thursday 15th April from 6.30pm down at the Waterfront Events Area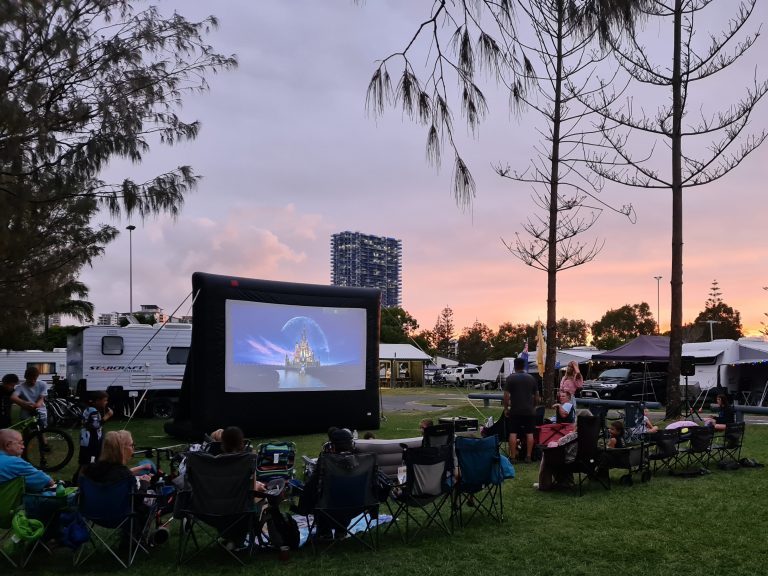 Outdoor Family "Broadwater Bingo"
Don't miss this hour of fun with Brooke our Bingo Queen. We will again be hosting our famous bingo sessions outdoors, so get your friends together and see how much chocolate you can win!!!!
Get your pens ready for Broadwater Bingo being held at 4pm on Thursday 8th and Monday 12th April
Krafty Kids

Our regular craft activities will be back throughout the school holidays with Sand Art, Sand Bottles, Soy Scented Candle Making , Shrink Art there will be plenty of choice for the Krafty Kids.
Easter Bunny
Don't miss the Easter Bunny who will be here to visit the kids at 4pm on Good Friday with a treat for all the "GOOD" Kids, down at the events area where our Animal Farm will be set up from 2pm-5pm
Food Vans
We know how much we all LOVE cooking on our holidays, but when its 'your' turn to cook just pop down to the Events Area where we will have alternating food vans every night! Each morning to start your day we will also have a Coffee Van here not only serving coffees but some delicious breakfast treats too!
Check out the full Easter Food Van Schedule Here... Broadwater Easter Food Van Schedule 2021