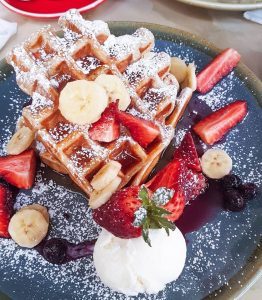 Travel temptations never tasted so good!
It's no secret that a holiday is not a holiday without tucking into some fabulous food! In fact sometimes we even design our holidays around such delectable delights. The Gold Coast is home to some of Australia's finest restaurants and an endless choice of laid back cafes, trendy bars, breweries and relaxed eateries. Local produce is the typical plat du jour, and rightly so! Our supply of the freshest seafood and produce is truly stellar!
Main Beach is arguably the dining heart of the Gold Coast and below we have listed our favourite places to grab a bite, all within walking distance from the tourist park.
Southport Surf Club is across the road from the park and has an awesome bistro overlooking Main Beach. It's family friendly and the food is great! Currently, we offer free Surf Club Membership to all guests of the tourist park. Next door to the main club is The Pavilion, serving a great take-away menu which you will find on the Surf Club website.
Southport Yacht Club is a 5-10 minute walk from the park. Looking out to the Broadwater, the Yacht club serves a great variety of food choices in a smart casual, yet family friendly club environment.
Lark Café is across the road, just behind the tourist park. Our go-to for a morning cuppa or a scrumptious breakky or lunch, Lark serves up fantastic coffee and a bunch of tasty treats! (Our park manager personally recommends their Smashed Avo!)
Iconic Tedder Avenue lies 2 streets behind the tourist park. This precinct houses delightful cafes including the adorable Le Jardin Cafe for a little slice of France. There is a vibrant selection of restaurants specialising in tastes from across the globe and budgets to suit any hungry traveller. A bakery, bottleshop, minimart and selection of boutiques makes Tedder Avenue a really handy place to have at our back door.
Marina Mirage is a 15-20 minute easy stroll away, located on the beautiful Broadwater next to the Palazzo Versace hotel. Boasting wonderful views over the marina and generally known for it's high end shopping and dining, the Marina Mirage is home to many fine dining restaurants including the divine Omeros Bros Seafood Restaurant and Glass Dining and Lounge Bar. Casual dining is not forgotten with family favourites such as the Hogs Breath Cafe and Main Beach staple, the relaxed Fisherman's Wharf Tavern.
SEAFOOD LOVERS ALERT! OK, surely nothing beats a kilo of the FRESHEST & BEST PRAWNS IN THE WORLD with a side of sweet Moreton Bay Bugs, and selection of crab and other seasonal seafood delights! GC locals know where to get the best and that is fresh off the trawlers as they pull in from a night out at sea. Pack yourself a cooler bag and an ice brick, grab some cash (no EFT on the boats) and head to the Gold Coast Fisherman's Co-Op. Fill your bag with mouth watering goodness and head back to your van or cabin, or one of the beautiful parks in the area, and enjoy a feast you will not forget! Tip: check out their website the night before to see what will be available and to make sure the boats haven't been held up due to weather. And get in early, especially on a weekend! The Co-Op is a 20 minute walk toward The Spit, located just past the Marina Mirage.
Special occasion? Popping the question? How about something a little out of the box? Gold Coast Gondolas operates during the day and night from Marina Mirage and offers catered or non catered gondola cruises on the Broadwater. If you're after something more intimate and especially memorable then this ticks all your boxes!
And if, after all of that, you just feel like a night in without the hassle of cooking we have the convenience of UberEats, Menulog and so many other delivery options available, delivering directly to the front of park reception.