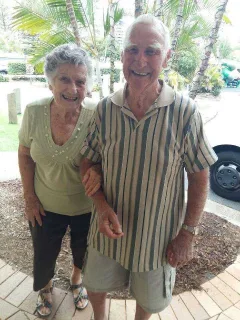 What's new this month...
Christmas 2020 is in the air! The park's Christmas lights are sparkling brightly and guests are joining in the fun, decorating their sites.
We have a great Christmas and Summer activities calendar which has now kicked off so check out the "What's On" page for all of the details. We are proud to have established a partnership with the Southport Surf Club and for the first time, we will be holding free Surf Awareness classes for the kids! This is a great opportunity for them to learn about our beaches and how to stay safe in the water whilst having some fun on the beach!
This month we welcomed our dear guests Joan and Brian to celebrate their 65th wedding anniversary! They have been annual Christmas guests at Main Beach Tourist Park for 47 years , their kids and grandkids also part of the Main Beach family! We wish Joan and Brian and their family all the best during this very special time.
Booking for January are looking good but we still have plenty of room so we suggest to get in and reserve your site for an awesome Summer getaway.
Merry Christmas to all!
Posted: December 14th 2020