Broadwater is the place to be this Winter!
With winter just around the corner and the Queensland version of chilly weather beginning to set in (average of 15 degrees), Broadwater Tourist Park becomes the place to be for those seeking unforgettable winter escapes. Nestled in a Central Gold Coast location we are close to all the fun, attractions and great events happening around the coast all Winter Long. Being right along the Broadwater with calm waters at our doorstep guests can take advantage of our location however they wish, relax to the max by ignoring the busy world around us in our slice of paradise or jump at all the great activities and events we the park put on for all our amazing valued guests and the great things happening around the Coast in the Winter Time!
Imagine waking up to stunning sunrises like this one, taking leisurely strolls along the Broadwater and pristine Gold Coast beaches, or sleeping in to wake up to a gorgeous sunny Gold Coast Winter Day.
Then enjoy a stunning Gold Coast winter's sunset with the beautiful colours over the Broadwater.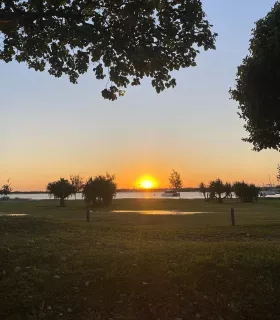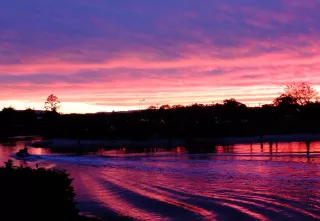 Here at the Broadwater Tourist Park we welcome our grey nomads with open arms to a joyful, eventful and fun filled 3 months of great winter activities. There is sure to be something of interest for all. Whether you like to get active, crafty, creative and of course eat some great food, the Broadwater Tourist Park has it all for winter.
Our in-park favorite events will return including our Pancake Breakfasts, Bingo, Sausage Sizzles, Happy Hours, Raffles, Craft Circles, Fundraising Lunches, Christmas in July, Outdoor Movies and More.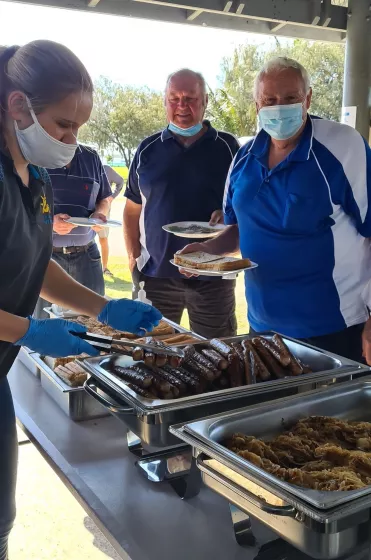 Our winter program of events kicks off on the very first day of winter with a FREE Sausage Sizzle on Thursday the 1st June! Snags, Bread, Onion and Sauces all supplied!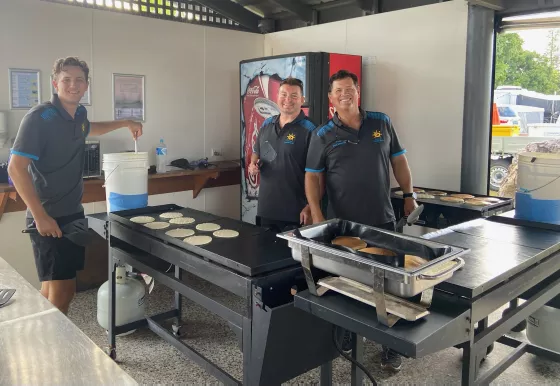 Happy Hours are another great way to unwind with some yummy nibbles, great company and great conversations. Join the Park management team on these fun afternoons with other guests indulging in some cheese, dip and cracker platters, little hot food snacks and some yummy treats to top it all off.
Our FREE Pancake Breakfasts will begin on the 5th June! Our yummy pancakes come with your choice of toppings from ice-cream, lemon, sugar, butter, maple, chocolate, and caramel topping! Can you think of a better way to start a winter day?

Our Pancake Breakfasts and Sausage Sizzles will be held fortnightly, rotating between them each week!
We are super excited to welcome some new and/or improved unique activities and events that get your body moving! These include Line Dancing, Mature Fit, Aqua Aerobics and more.
For those interested we are looking at doing some great days outside of the park including a Golf Day, Barefoot Bowls Competition, Sessions at the Cinema and more!
Don't just take our word for how great Broadwater is during winter time, here is a guest review from Lulu who stayed in August 2022.
We unfortunately only had 3 nights at this park. Hopefully, we can return next year. Wonderfully neat, tidy park and amenities. On the Broadwater beautiful location and so relaxing looking out over the water Even has a little beach area. Everything you could ask of a park is here. Activities all notified by sms or email. Various vendors visit regularly. Friendly, helpful staff, nothing too much trouble. Able to catch a taxi or Uber and leave car at park if dining out.

—Lulu09 - Tripadvisor Stay in August 2022
In-park guests can keep up to date via our weekly newsletter sent to their emails or collect a hard copy from reception.