Welcome to your official guide through the winter months with us at Main Beach Tourist Park. To all of our return winter regulars returning to the sunshine state we are so happy to have you back for another great stay! To our new comers we look forward to meeting and we hope you enjoy your experience with us!
The Brew Bus
New addition to our Tourist Park is our very own coffee van! The Little Brew Bus has been up and running since Easter and we have had great feedback, open 6am to 11am daily.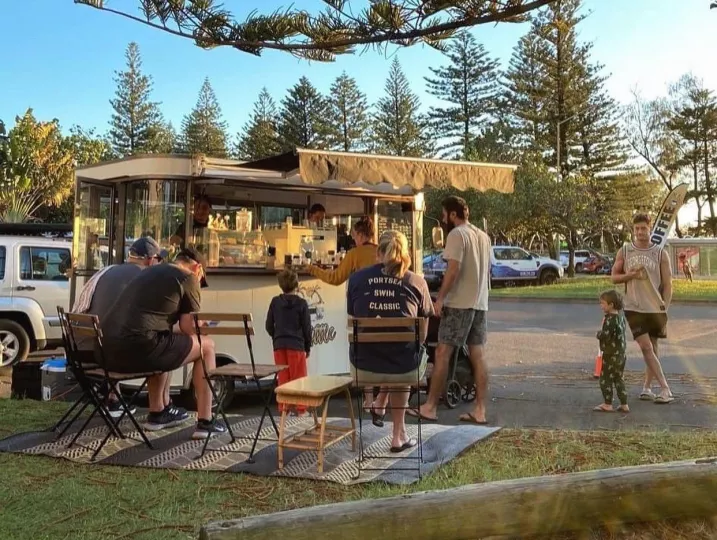 You've been served!
This year we are taking the hassle out of cooking for all of our guests and we are calling in some professionals. We have a large selection of food vendors who are counting down the days to service our lovely guests! All menus will be available at reception.
We have some fan favorites and some new additions Jessie the Chef, Pork On Your Spork and Hawker Eats
What to expect?
During the next few months we will have activities running for guests of all ages to enjoy! This years theme is Winter Wonderland.
For all of our beautiful guests joining us this winter if your not already, please like/follow our Facebook page to ensure you don't miss out on any activities! You will also receive a print out of all events happening including in your check-in pack... Including special discounts and vouchers (main beach guest exclusive).
Movie nights under the stars
Gold coin donations sausage sizzle
Cupcake Decorating
Chalk Art
Scavenger Hunt
Snowball Winter disco
Face painting

And delicious food trucks of course!
"It is an oasis in an urban environment. Beautiful beach across the road and an amazing Greek restaurant just around the corner. The facilities are top class , the toilets, showers , laundry room are immaculate. . The pool area was extremely clean , my children spent hours in it. Would highly recommend. ...My family and I have travelled up tthe East Coast from Sydney, would rate this caravan park top of my list."
- 340maeveb, Tripadvisor March 2023

WE LOOK FORWARD TO WELCOMING YOU TO OUR WINTER WONDERLAND