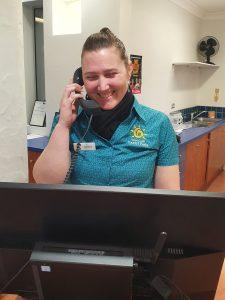 Hello from the Front Office team!
I started in October 2019 when Casey and Adrian took over the Park management, and I have loved every minute. Before I started at Tallebudgera I had spent the last 15 years in the Hospitality & Tourism Industry starting in the Fast Food Industry, Managing pubs and long term rentals where I fell in love with the accommodation sector. I started working in Holiday Parks across New Zealand before moving to Australia in January 2015, where I started as a waitress at a local restaurant and here I met my Husband. I moved back into Hospitality Management before securing a role here at Tallebudgera Creek.
Working at Tallebudgera has been a nice change from the many years of late nights and grave yard shifts, I work with an amazing team who work well together, supporting each other and we also have a few laughs along the way. We meet a lot of amazing people travelling around the country or a new demographic of young people and families getting into caravanning and camping for the first time, who are taking the opportunity of a Staycation in their own backyard exploring the great Aussie outdoors, during these challenging times.
I have had a passion for the Tourism Industry since I was a teenager, I complete a Diploma in Travel and Tourism and love travelling. I have been to Thailand, Vietnam, Vanuatu and Malaysia. I have camped all around New Zealand and I during my honeymoon toured Australia. New Zealand has beautiful flora and fauna, where Australia has some of the most amazing beaches and towns. We have been as far North as Cairns and as far south as the Great Ocean Road. Sydney, Forster and Seventeen Seventy were 3 of our favourite places. We love camping and hope to do more in the near future our next stop in Yamba. My other passions include reading (I have started my own library with my book collection reaching over the 1000's) art and Aerial Silks.
Welcome to our next edition of 'Tallebudgera Times', we look forward to welcoming you back soon for your next staycation or getaway!
Safe Travels!
Dani
* * * * * * * * * *
Through the eyes of some regular visitors....
Thus, proving that Tallebudgera Creek Tourist Park is the ideal location for all walks of life to holiday!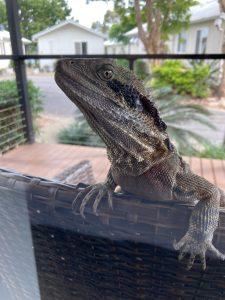 Liz Ard and her entire family of approx. 100 love to spend time enjoying all that Talle has to offer, it is our favourite tourist park and the kids have loads to do.
As you can see Liz was being a real ''Lounge Lizard'' and very much ''Social Distancing" from the balcony of a Deluxe Cabin. Liz who runs a successful business, said it had been really busy and she needed to 'Scale Back' a little, hence why she has taken a break @ Talle!
Lori Keet and her partner Parry recently 'flew in' from across Tallebudgera creek, and spent a few days chilling out in one of Talle's fabulous Waterfront Superior Cabins. These two very 'chirpy' guests love a chat, and like ALL our guests just love 'hanging' around the tourist park every chance they have.
Since the 'Keet's' last 'perched' themselves @ Talle they noticed all the winter 'spring' cleaning the team has been doing to ensure the park is looking fabbo for your next visit. They also love that our in 'Park't' Food Truck is opened daily, although they did suggest a new menu item of an ''Insect larvae bowl with a serve of seeds garnished with pollen" Yuk…I will stick with the tasty burgers!!!
A Winter 'Spring Clean' @ Talle!
Check out these images on what we have been doing @ Talle over the past few months....It's our spring clean in winter program as our grounds crew and housekeeping teams are kept busy with a long list of maintenance items, as we get ready for your next visit! Even Stan our F&B manager is getting in on the action :)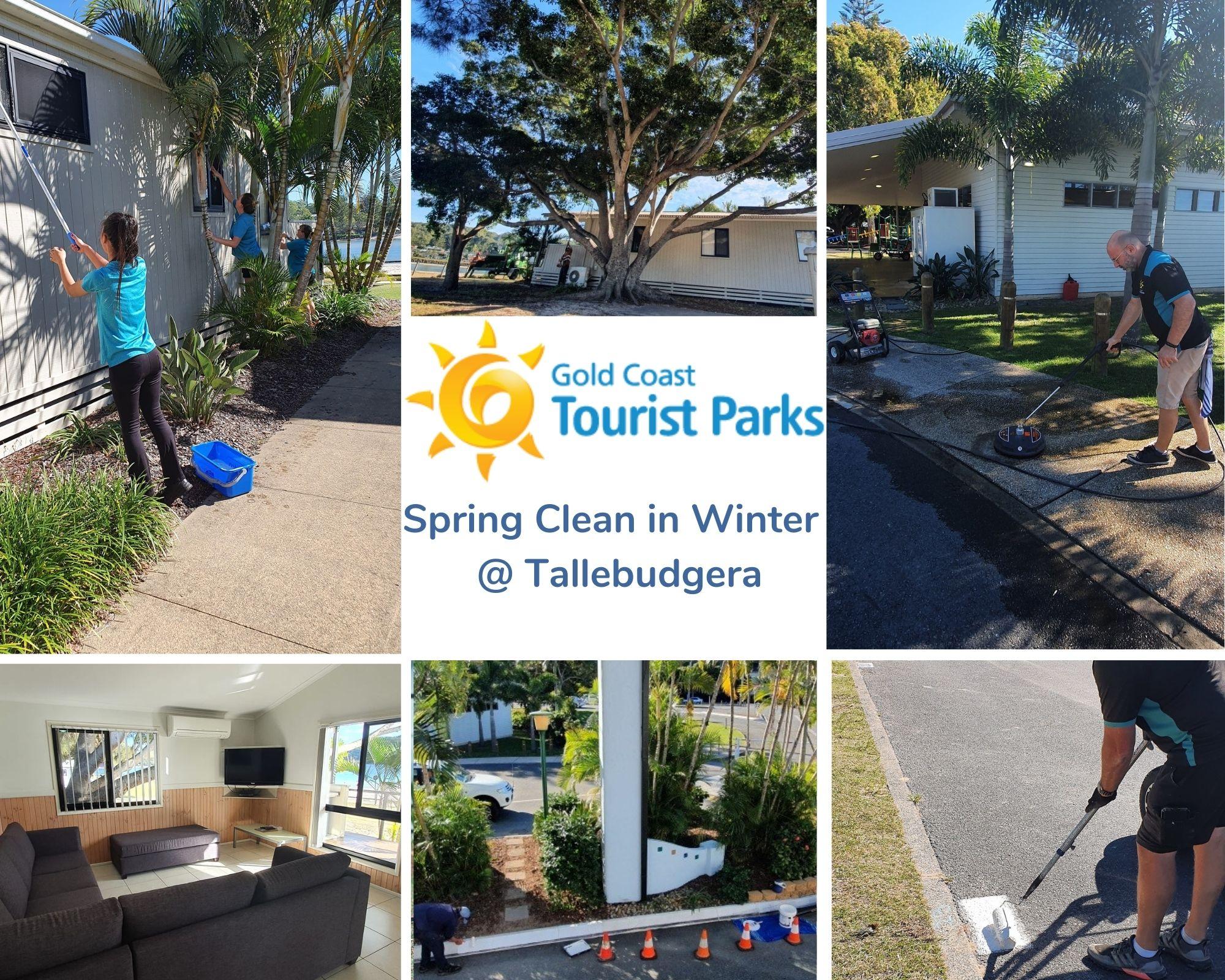 The one that didn't get away....Fishing Tails from Talle!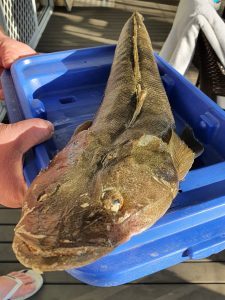 Could this be the Catch of 2021???
Recently we caught up with a couple of guests (for privacy reasons) will be known as 'Rod' and 'Barb' 🤣 both budding fishers who reeled in this monster 50cm + Flathead (well Barb did) from the sandy banks of Tallebudgera Creek, directly in-front of the park. They used a standard reel, and the bait was purchased from our Kiosk (sales plug). They also caught 3 decent sized Bream, before hooking this monster.
A Flatty of this size 'shore'ly has other 'Flat'mates in Tallebudgera Creek ready to be 'lured' by your bait!
For those guests who don't have any luck fishing, our Park't Food Truck has fish n chips on the menu!
* * * * * * * * * *
Kiosk - Open to purchase a variety of drinks, barista coffee, fresh gourmet sandwiches, home-made pies and sausage rolls, Ice cream, Bait n Tackle, Ice, Gas refills and selected grocery items.

Onsite Health n Wellness Centre: offering Located at end of Waratah Drive, near the Adults only pool.

Tastes of Talle - In Park Dining: Park't Food Truck, opened daily from 5pm, and from 12 noon on Friday, Saturday and Sunday's. Other food trucks in park on Friday and Saturdays from 5pm.

Each Booking received a Free membership @ Tallebudgera Surf Lifesaving Club

AquaFit classes in the Adults only pool (heated) every Wednesday during Winter.

Lawn Bowling @ Tugun Bowls every Thursday afternoon during Winter.
We look forward to welcoming you to
Tallebudgera Creek Tourist Park soon!