Come and visit our new premium Island Shacks!

We're so excited to be partnering with Club Marine to share the magic of South Stradbroke Island. See how the team enjoyed their unplugged Island escape with the Club Marine TV video below.


Imagine stepping away from the noise and stress of everyday life for an island getaway. South Stradbroke Island offers miles of pristine white beaches with unchecked nature just minutes by boat ride from the hustle bustles of the Gold Coast!

Want to experience the life of off grid camping but don't want to spend your weekend packing and unpacking equipment? Then try out South Stradbroke's Island's newest accommodation type, the Island Shacks. Wake up feeling relaxed and rejuvenated in the comfort of your queen bed and block out blinds to keep away that morning sun. Step outside your shack and onto the sand whilst taking in your water views and preparing for a beautiful day of exploring. In the evening, gather around a campfire near your front door (wood supplied by Tipplers) and toast marshmallows while soaking in breathtaking views of Gold Coast beaches.
This is still an off-grid experience as there is no power or water available within the shack, so make sure you still bring your towels and a battery pack if you need to charge your phones at night. If you forget anything though don't worry, you can hire battery packs from the kiosk. Your Island Shack is also conveniently located near the campground's shared amenities, which include toilets and hot showers, gas barbecues and picnic tables, a wash station with potable water and microwaves, and rubbish bins.
Check availability and secure your spot today: https://bit.ly/3rhyYrt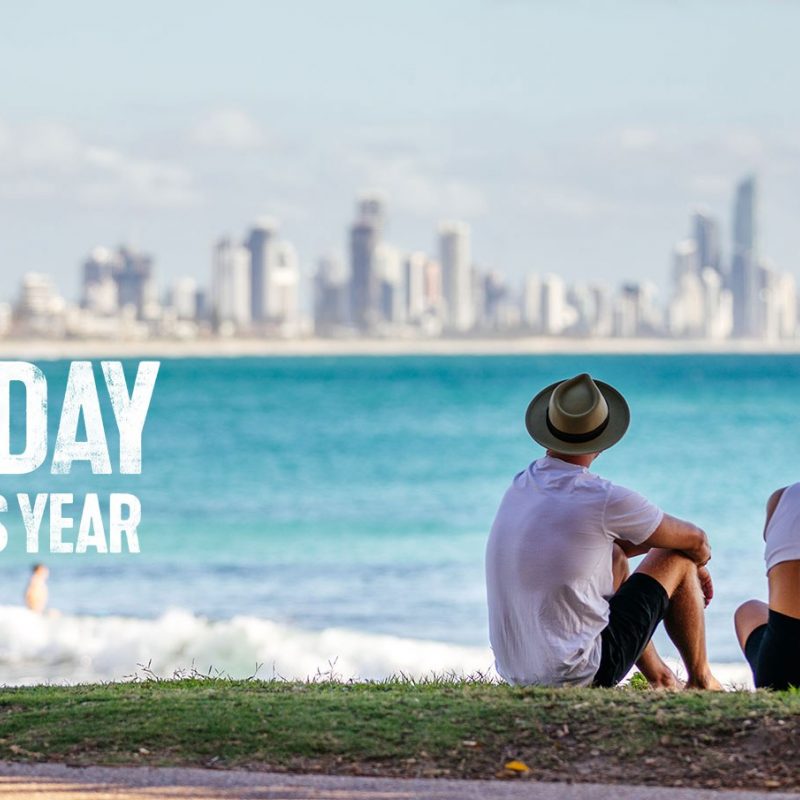 Tipplers Café

Boasting an unbeatable view, Tippler's café, located on South Stradbroke Island, is an absolute culinary delight. Whether you pop over to test out the signature Singapore chilli mud crab or kick your feet up and relax with a Golden Wallaby cocktail, Tippler's café guarantees to satisfy your taste buds.
The laid-back island vibe is infectious, with off-the-grid campers mingling with luxury-yacht owners as they dine on delicious food. You will feel like you're a world away from the hustle and bustle of the Gold Coast on this sub-tropical island, even though you are only a 20-minute boat ride from the mainland.




The Island
South Stradbroke Island is a haven for nature lovers and those looking to unplug. With its endless beaches, vast forests filled with wildlife (including wallabies!), crystal clear water waiting patiently at your feet - it's easy to forget all about work or school back home!
The only way to get to the island is by boat; however, if you don't own a boat or jet ski, do not fear. There is a ferry you can book to pick you up from Jacobs Well and transport you to and from the island (insert link to Fairy). Once you're there, your only problem will be trying to decide which secluded beach or small coves you want to spend your day at.
There are plenty of ways to keep your toes digging into the sand as you explore nature. You can go for a bushwalk or mountain bike ride through well-maintained tracks that lead up towards open forests filled with towering eucalypts and flower-laden banksias, where only wallaby footprints mark their passage.