Tis the season to get jolly with all the fun activities on at Burleigh these Christmas holidays! We have packed in more this year with some new brand-new events and the old favourites!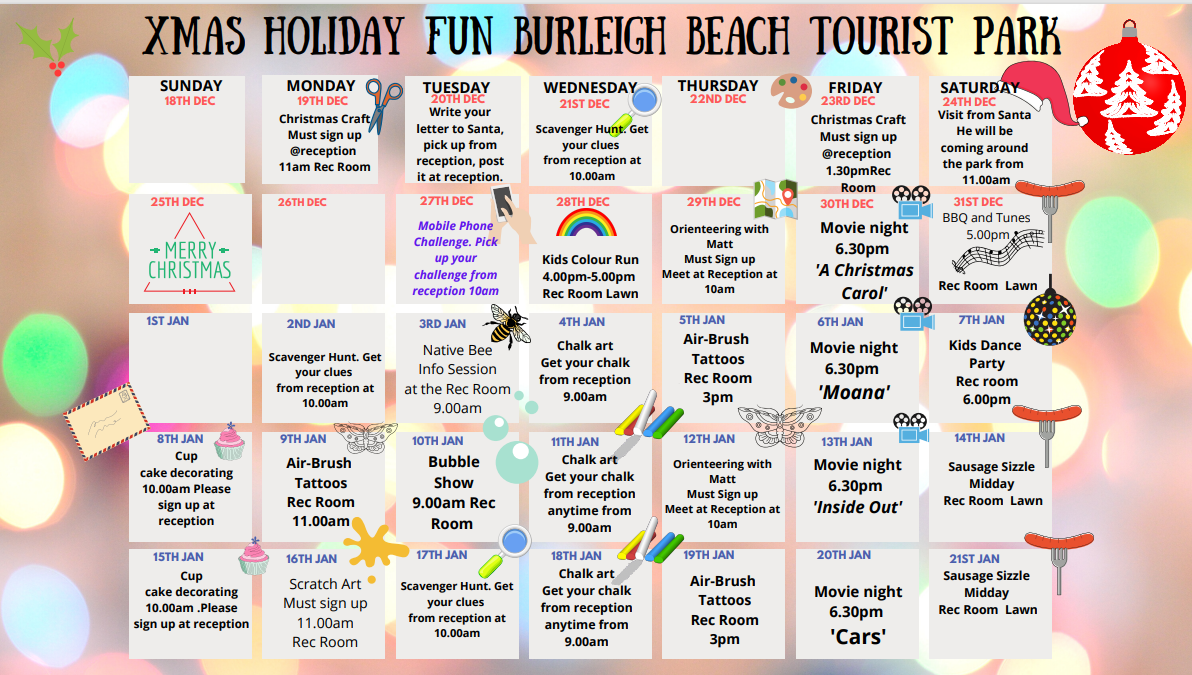 Get a fake tattoo by Laura at the Rec Room. Air-brush tattoo events happening throughout the month.
Learn about the native stingless bee hive we have in our park! Native bee info session at 9am on the 3rd Jan.
Orienteering with Matt! Navigate your way around the park , finding clues along the way!
Get colourful with 'Kids Colour Blast'! Great fun with water, games and loads of colour! Wear something white and turn into a rainbow!
Cup cake decorating is always a hit at Burleigh! Chef Matt is cooking up some tasty cakes for you to get creative and load with candy!
Outdoor movie nights every Friday!
Get your dancing shoes on for the kids disco on the 7th Jan.
Santa will be here on the 24th , catch him going around the park with sweet treats for all!
Maria is back with her amazing Bubble Show, if you have not seen it we recommend a look, she can put 2 kids inside one giant Bubble!
Craft, scavenger hunt, chalk art, BBQs and more! We are super excited for Christmas this year! See you all at Burleigh!
Posted: December 10th 2022