The December and January holidays are always a super busy time which is why we aim to make sure our guests have a relaxing and carefree stay with us here at Tallebudgera Creek Tourist Park.
The kids do get spoilt with a range of various activities which are always a huge hit. But these holidays we also have some new additions for the adults!

We love our partnership with Currumbin Wildlife Sanctuary which is why they are coming to visit again with a collection of Australian wildlife. The presentation showcases a variety of Australian lizard species, including monitors, geckos, and skinks. You can observe these reptiles up close and learn about their unique adaptations and behaviours. Ever held a snake? Now this is your chance!
We've added some new fun filled activities to our program this year. Games like Jenga and Bingo are timeless classics that bring families together for fun and friendly competition. We've also introduced Finska and our variation of Cornhole which appeals to a wide range of ages, providing hours of entertainment for the whole family to enjoy together.

We can't forget our adult guests
To help you relax and start your day off on the right foot - we're trying yoga. Performing yoga in a picturesque setting like Tallebudgera Creek can enhance the overall holiday experience, as guests connect with nature and enjoy the tranquil surroundings.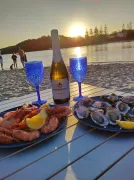 Mr Fishy Seafood will be visiting every Saturday afternoon so the perfect way to end the day is to enjoy the spectacular sunset overlooking the creek while enjoying fresh seafood accompanied with your favourite beverage.
The Perfect Spot for Unwinding
Picture this: You've spent the day exploring the stunning Tallebudgera Creek, partaking in exhilarating activities, or simply basking in the natural beauty of the Gold Coast. As the afternoon sun starts to mellow, Parch't beckons you with a promise of relaxation.

Parch't is more than just a drinks truck; it's a refreshing experience waiting for you. Head to our Kiosk precinct so while the playground keeps your kids entertained, the team in Park't, our food truck, can prepare your dinner so while you wait, enjoy a selection of cold brews that will tickle your taste buds.
Cheers to making unforgettable memories at Tallebudgera Creek!
These holidays, Park't will be open for dinner Wednesday to Sunday 5pm - 7.30pm, Lunch on Friday, Saturday & Sunday from midday.

Parch't will be open for drinks on Wednesday to Saturday evenings, 5pm to 8pm.
Posted: November 21st 2023